President – Richard Ramsey

My name is Richard (Big Dick) R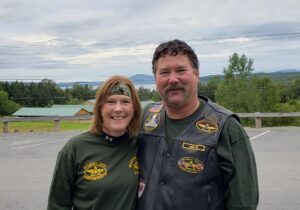 amsey. I am currently the President of the Low XII Riders Chapter of the Widows Sons of Maine. I was born and raised in Maine and have a love and tie to Coastal Maine where I have raised a family with the love of my life, Angela. I am a Past Master of St. Croix Lodge #46 in Calais Me, and am active in the York Rite bodies, a Shriner, and a 32' Scottish Rite Mason. I got into Freemasonry by chance and curiosity, what I got out of Freemasonry is a larger family than I could have ever expected. I offer you this thought, "We should all look to be that Light in someone else's storm", you never know when you will be that Beacon of Hope. WSFFWS
Dan Taylor – Vice-President
Secretary – Gerry "Moxie" Knight
My name is Gerry Knight and I go by the road name "Moxie" (Yes, I love the stuff). I am currently the Secretary for the Low XII Riders Chapter of the Widows Sons, prior to which I served as President. I was born and raised in Maine and am a US Navy Veteran. I currently hold a chair in my lodge, Belfast #24, and am active in the York Rite bodies. I got into Freemasonry because of the generosity and charity shown to me directly by the Widows Sons. Since that day, I have never looked back! I currently live in Lincolnville with my wife, Lori, who also likes to ride and enjoys the friendships we have both discovered by being a part of the Low XII Riders family."
Treasurer – Ed 'Dad King'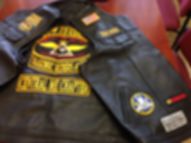 I'm Ed King, one of the first/founding members of this group. I'm also the non-rider: eye problems! The road name the group decided on for me is Dad King.  For over five decades I've worked with the Order of DeMolay, an organization for young men sponsored by the Masons. In DeMolay, all Advisors have the title of 'Dad', reminding them of their important role in mentoring and guiding youth and a goodly number of those with whom I've worked throughout the years know 'That's Dad King to you, lad'!
I've been a US Navy Senior Chief Petty Officer (Cryptologic Technician) and have been a medical practice administrator most of my civilian working career. I'm a Life Fellow in the American College of Medical Practice Executives. 
After spending a LONG time as a Mason and being involved in a great many lodges and appendant organizations across multiple jurisdictions (I was raised in the Philippines, for example), I can honestly say that the Widows Sons are the greatest group I've ever been associated with. Our Chapter constantly and consistently remembers that we're MASONS FIRST – and I'm proud that they let me tag along in my little (now green) Subaru Forester! Some good times on the road and some truly great friendships.
We're NOT a motorcycle club! We're NOT a gang of any kind. We're a group of Masons who enjoy fellowship and fraternity – and, of course, motorcycles. We really are BROTHERS and we readily open ourselves to new members! If you've got questions or are hesitant to get involved for whatever reason, give a shout and we can talk about it. I think the only regret you'll ever have is if you don't check us out!"