President – Gerry "Moxie" Knight
My name is Gerry Knight and I go by the road name "Moxie" (Yes, I love the stuff). I am currently the President for the Low XII Riders Chapter of the Widows Sons, prior to which I served as Secretary. I was born and raised in Maine and am a US Navy Veteran. I currently hold a chair in my lodge, Belfast #24, and am active in the York Rite bodies. I got into Freemasonry because of the generosity and charity shown to me directly by the Widows Sons. Since that day, I have never looked back! I currently live in Lincolnville with my wife, Lori, who also likes to ride and enjoys the friendships we have both discovered by being a part of the Low XII Riders family."
VIce President – Richard Ramsey

My name is Richard (Dick) Ramsey. I am currently the Vice President for the Low XII Riders Chapter of the Widows Sons. I was born and raised in Maine and have a love and tie to coastal Maine where I have raised a family with the love of my life, Angela. I am currently the Master of St. Croix Lodge #46 in Calais Me, and am active in the York Rite bodies, a Shriner, and a 32' Scottish Rite Mason. I got into Freemasonry by chance and curiosity, what I got out of Freemasonry is a larger family than I could have ever expected. I offer you this thought, "People Who Shine From Within Don't Need The Spotlight".
Treasurer – Ed 'Dad King'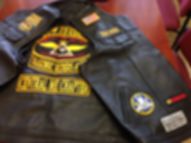 I'm Ed King, one of the first/founding members of this group. I'm also the non-rider: eye problems! The road name the group decided on for me is Dad King.  For over five decades I've worked with the Order of DeMolay, an organization for young men sponsored by the Masons. In DeMolay, all Advisors have the title of 'Dad', reminding them of their important role in mentoring and guiding youth and a goodly number of those with whom I've worked throughout the years know 'That's Dad King to you, lad'!
I'm currently the Master at Seminary Hill Daylight Lodge #220 in Bangor,  the Treasurer/PM/Fellow of the Maine Lodge of Research, and PM/Charter Member of The DeMolay Lodge in Massachusetts. I'm also the Grand Librarian and Museum Curator for the Grand Lodge of Maine. 
I've been a US Navy Senior Chief Petty Officer (Cryptologic Technician) and have been a medical practice administrator most of my civilian working career. I'm a Life Fellow in the American College of Medical Practice Executives. 
After spending a LONG time as a Mason and being involved in a great many lodges and appendant organizations across multiple jurisdictions (I was raised in the Philippines, for example), I can honestly say that the Widows Sons are the greatest group I've ever been associated with. Our Chapter constantly and consistently remembers that we're MASONS FIRST – and I'm proud that they let me tag along in my little (now green) Subaru Forester! Some good times on the road and some truly great friendships.
We're NOT a motorcycle club! We're NOT a gang of any kind. We're a group of Masons who enjoy fellowship and fraternity – and, of course, motorcycles. We really are BROTHERS and we readily open ourselves to new members! If you've got questions or are hesitant to get involved for whatever reason, give a shout and we can talk about it. I think the only regret you'll ever have is if you don't check us out!"
Brandon Croan, Secretary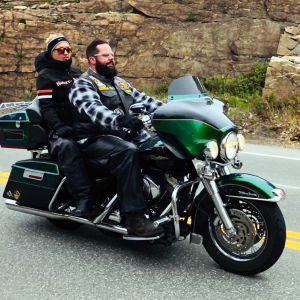 I'm Brandon Croan and around here I go by "Cuddles". I currently serve as the secretary of the Low XII chapter of the Widows Sons in central Maine. I've been with the chapter for two seasons now and can't put a value on what it has meant to be a part of the organization thus far. I have been a Mason since 2012 when I was raised in Olive Branch Lodge #124 in my hometown of Charleston, ME and will be sitting as the Junior Warden in the upcoming masonic year. I am a member of the York Rite bodies in Belfast, ME and also I am also very proud to be a drummer and beginner piper with the Anah Highlanders.
Masonry has been very rewarding in and of itself, yet I have found that being a widow's son is truly something special; The charity, brotherhood and fellowship, as well as the development of those strong fraternal ties that bind us all are very powerful. The best parts of masonry shine bright here. As a chapter, our members work so hard to keep up with rides, fundraisers and events that I'm truly inspired to step up and perform at a higher level on a daily basis. It's really special to see the tens of thousands of dollars raised every year support such worthy causes and make real impact in our community. I really have a second family here and could not be more proud to wear the patches.