President – Tom "Kernel" Spencer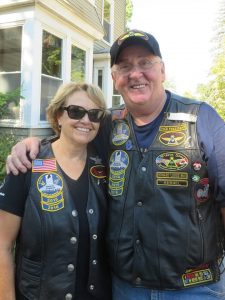 Bio: "My name is Tom Spencer and go by the road name Kernel (as in popcorn Kernel). I am the President of the Low XII Riders Widows Sons chapter. I was born in Beverly Mass and have lived in Glenburn for the last 20 years. After working for General Electric for 30 years with several stops along the way I retired in 2014 (but am still doing a bit of part-time work when they call me!). I was raised in 1983 at Rising Sun Lodge #39 in Nashua NH and currently belong to Kenduskeag lodge #137 and Howard Lodge #69, Winterport where I'm currently the Senior Warden and will be moving to the East December 2019. I'm presently serving Grand Lodge as a Grand Steward. I also belong to The York Rite Bodies in Belfast, The Valley of Boston Scottish Rite Bodies and Anah Shrine Bangor where I'm a member of the Bangor/Brewer Shrine Club. I have one daughter and have been married for 41 years to my lovely Lady Shirley."
Vice President – Gerry "Moxie" Knight
My name is Gerry Knight and I go by the road name "Moxie" (Yes, I love the stuff). I am currently the Vice President for the Low XII Riders Chapter of the Widows Sons, prior to which I served as Secretary. I was born and raised in Maine and am a US Navy Veteran. I currently hold a chair in my lodge, Belfast #24, and am active in the York Rite bodies. I got into Freemasonry because of the generosity and charity shown to me directly by the Widows Sons. Since that day, I have never looked back! I currently live in Lincolnville with my wife, Lori, who also likes to ride and enjoys the friendships we have both discovered by being a part of the Low XII Riders family."
Treasurer – Ed 'Dad King'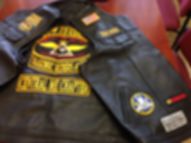 I'm Ed King, one of the first/founding members of this group. I'm also the non-rider: eye problems! The road name the group decided on for me is Dad King.  For over five decades I've worked with the Order of DeMolay, an organization for young men sponsored by the Masons. In DeMolay, all Advisors have the title of 'Dad', reminding them of their important role in mentoring and guiding youth and a goodly number of those with whom I've worked throughout the years know 'That's Dad King to you, lad'!
I'm currently the Master at Seminary Hill Daylight Lodge #220 in Bangor,  the Treasurer/PM/Fellow of the Maine Lodge of Research, and PM/Charter Member of The DeMolay Lodge in Massachusetts. I'm also the Grand Librarian and Museum Curator for the Grand Lodge of Maine. 
I've been a US Navy Senior Chief Petty Officer (Cryptologic Technician) and have been a medical practice administrator most of my civilian working career. I'm a Life Fellow in the American College of Medical Practice Executives. 
After spending a LONG time as a Mason and being involved in a great many lodges and appendant organizations across multiple jurisdictions (I was raised in the Philippines, for example), I can honestly say that the Widows Sons are the greatest group I've ever been associated with. Our Chapter constantly and consistently remembers that we're MASONS FIRST – and I'm proud that they let me tag along in my little (now green) Subaru Forester! Some good times on the road and some truly great friendships.
We're NOT a motorcycle club! We're NOT a gang of any kind. We're a group of Masons who enjoy fellowship and fraternity – and, of course, motorcycles. We really are BROTHERS and we readily open ourselves to new members! If you've got questions or are hesitant to get involved for whatever reason, give a shout and we can talk about it. I think the only regret you'll ever have is if you don't check us out!"
Ken Bustard, Secretary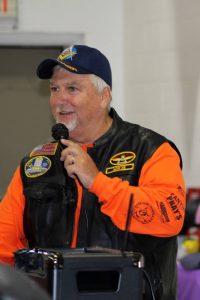 This Masonic and Widow Sons journey is still fairly new to me — having been raised to the sublime degree of Master Mason in December 2017.  The degree was particularly meaningful, having the Widow Sons degree team officiating.  Currently, I have just two priorities in my Masonic life – my local Blue Lodge and Widow Sons Low XII Chapter. That is what I have band width for, and attempt to give 100%.
Now a couple confessions.  First, I got elected as Secretary through "ranked choice voting."  That's right.  Who would have imagined?  A much more experienced and better known brother was running for Secretary, so knowing I wouldn't get elected, I threw my hat in the ring just for….. well, actually I'm not sure why. Shortly thereafter, he joined the newly formed chapter, Band of Brothers.  Through the magic of ranked choice voting… the chapter got stuck with me.
Second, and this is the last dirty laundry I will share,  I ride a Honda Gold Wing.  I know!!  Totally uncool.  If it helps, I am in the market for a cooler bike to ride locally that is a little louder.  I admit, it gets old listening to the jokes.  "Hey, everyone shut your bike off… so Ken can tell when his starts."   "How do you know when it is running?"  The best, from my friend Dan Taylor was "I bet you could sneak up on a deer with that thing."   Definitely need a cooler ride.
On a more personal level, I consider myself a blessed man. There were 12 siblings in my family, and we didn't have much growing up.  Our definition of running water was running to the front porch with a water pail. Father worked hard his entire life, and we always had 3 good meals a day.  OK, admittedly, some better than others… but we were never hungry.
Following an honorable Army discharge, I was the first in my family to attend college.  Today, along with being an Adjunct Instructor at Husson University, I work for myself doing accounting, tax planning and outsourced CFO consultation.  I married the perfect woman, who has been by my side for 38 years.  My daughter is a lawyer in San Francisco, CA and my son a finished wood worker in Windham, ME.  But now let me tell you about my grandson Eli!  No, actually, I wouldn't have enough space.  Suffice it to say, he is the perfect grandson, the joy of our lives.
I have developed some incredible, lifelong friendships this past year – men who I know have my back and will be there for me should I ever have a need to reach out.  Men I can laugh with, share the challenges of life and just enjoy their companionship.  It is truly an honor to serve you in this role as Secretary.
Thank you, brothers, for your friendship.  SMIB