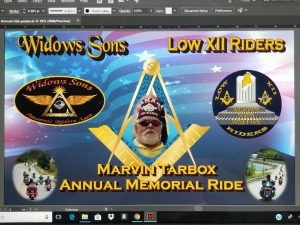 Since 2013, we have had an Annual Charity Rite, named in honor of Anah Shrine Go-Kart member Marvin Tarbox who was killed while doing what he loved most, pleasing children through the Shriner's participation in the Damariscotta Pumpkin Fest Parade in Newcastle in October, 2011 when he was fatally injured after his go-cart toppled to the ground. Several of our members knew Marvin, some working with him and others through Shrine membership. As our Chapter was being formed we felt the concept of keeping alive the concept of service to others through this annual ride would be an excellent idea. 
This, we established a scholarship, to be utilized at Northern Maine Community College, in his memory. It is given to a deserving student in the electrical program, he having worked in that field. It is a $1,500 scholarship available for a student in their second semester. Northern Maine Community College chooses the student to receive this scholarship. This is our primary fundraising endeavor each year and we welcome you on our ride!  (Cars as well as motorcycles can participate!)

Tarbox Ride 2019
WOW! Our 2019 Tarbox Memorial Ride in Year #8 was by far stronger than ever before. 151 riders and passengers joined us on Sunday, June 2nd to raise funds for the Northern Maine Community College Foundation in honor of Mason & Shriner Marvin Tarbox who was tragically killed in an accident while performing with the Anah Shrine Motor Corps unit during a parade.
In addition, this year we also helped to raise funds for Donna Wiegle's TEAL on WHEELS ovarian cancer awareness tour. Donna plans to ride cross-country to publicize the plight of women who are all too often misdiagnosed when suffering from this silent killer.